ROUND 2:
Pussy Fight: The Most Ruthless of Orgasm Denial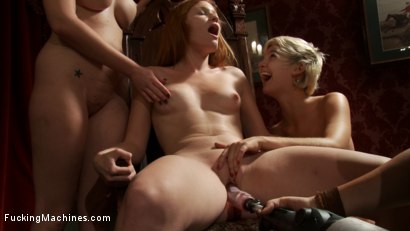 Join Site!
Over 900 Shoots
Over 500 HOURS of video
Over 140k Pictures
Four scenes every Wednesday in HD
Live show every Friday in HD
Amateur Girls
Member Forums
Round 1 of our Live Audience show warmed the girls up and showed their competition what to expect. The porn virgin, Lizzy Rose cums with a look of surprise on her face as she had no idea that fucking a machine in front of a crowd and during a live show was even possible for her. Rookie, Devon Taylor, is a two minute wonder with a creamy pussy to prove she comes faster than a speeding bullet. And rising rookie starlet, Chloe Camilla, was like the hare and took off at 1 million percent for a screaming, full Fucksall throttle orgasm.
Now in Round 2, the panties are off and all three are ready to get a leg up on their competition. Orgasm denial becomes the main weapon for these babes as they all struggle to come before someone turns down The Ass Blaster or takes away the magic wand. It gets damn near primal with these girls fucking it out for another orgasm.
So cast your votes on the boards as you pick the winner in this 3 round Fucking Machines Competition. So far, no girl is in the lead.

Also in this update is a bonus fucking of Lizzy who wanted to feel some serious speed in her pussy. Devon and Chloe put aside their competitive sides and help fuck Lizzy to bliss.