Machine DP + Bondage= So Many Orgasms for Such a Sweet Little Blonde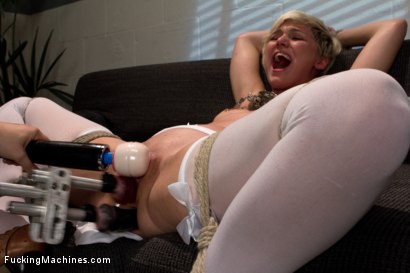 Join Site!
Over 900 Shoots
Over 500 HOURS of video
Over 140k Pictures
Four scenes every Wednesday in HD
Live show every Friday in HD
Amateur Girls
Member Forums
Fucking Chloe Camilla is like a free pass at an amusement park with all the rides and candy you can possible handle. In the pre-interview she confesses to a record 30 orgasms from fucking someone. I assume that someone was Superman or Wonder Woman - someone with a bionic appendage!
It's a good thing the machines plug into the wall so we can fuck Chloe to the moon. Her after shocks are so powerful, she twitches and shakes long after we have stopped fucking. She is insatiable, hungry for more and more and more, so the machines give and give and give. She cums and the machines speed up. Her body convulses, we press the Magic Wand harder on her clit.

She does her first ever double penetration with The Fucksall and her mouth, pussy and whole body tells us just how much she loves it. She pulls against her bondage and strains against the TWO gags in her mouth - one that hold her lips open and one that stuffs her mouth full so only drool and deep moans can escape her. This gets particularly primal when the surgical clamps come out and she must endure them pulling her pussy open while she cums.