Iron Porn
Part 3 of the May live show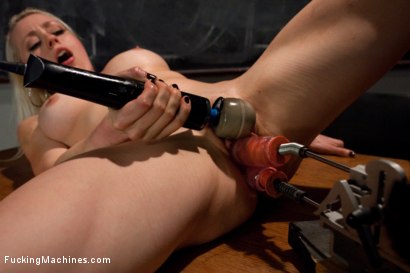 Join Site!
Over 900 Shoots
Over 500 HOURS of video
Over 140k Pictures
Four scenes every Wednesday in HD
Live show every Friday in HD
Amateur Girls
Member Forums
The armory is a big building and sometimes - in particular during a live show when anything can be suggested from the members - you have to improvise when you don't have what you need.
Today, we didn't have nipple clamps so, after a quick dig in the tool kit, a solution was found - vice grips.

Lorelei jerks off with standard tools of the trade pinching her nipples. She's tough and kinky so when the metal wrenches fall she cums in relieve. Okay, good start. But now, let's machine the shit out of her pussy and ass.

The Twin Inserter dishes out a perfect mechanic Double Penetration that has Lorelei pinned on her back, cumming and overwhelmed. Watch her at the end of the scene as she makes her way back to the real world after being deep in orgasmville.